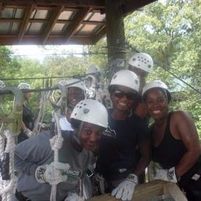 Are you spontaneous? Do you like adventure? Are you open to trying new things and seeing new places? If so the Dynamite Adventure Club is the organization for you!
Are you tired of being frustrated with wanting to travel but have no one to travel with? Stress no more, Dynamite Travel is here to assist! Please complete this form if you are interested in participating in the Dynamite Match Program which matches up like-minded travelers who do not wish to travel alone.
Show your support for Dynamite Travel by sporting our tees when you travel!
Do you have a passion for travel and exotic things? If so, let us bring the world to you with our Dynamite Doorstep program where you can purchase items from around the world! Interested customers can contact us for more information!