Luxury Vacations for Every Season – Where to Go in Spring, Summer, Fall & Winter
Sometimes timing is simply not on your side. Like when you're dreaming of a tropical getaway, but can't get any time off until Hurricane season… Or when you've finally booked that luxury family vacation, only to discover that all the hotels and attractions are sold out. 
I'm here to tell you that there's a vacation for every season, and not only that – some destinations truly shine certain months over others! Here are some prime-time vacation spots for each season:
Spring
A fantastic season for travel to so many destinations. Spring offers warm weather, fewer crowds, and increased hours of daylight. While it's synonymous with rowdy spring-breakers, Cancun is so much more than blaring music and foam parties. Spring in Mexico's Riviera Maya region means a combination of warm temperatures and low rainfall and is one of the best times to visit. 
Summer
A popular time for travel, summer is often when families pack up and go exploring – be it long or short distances. 
Summer is an ideal time to visit St. Lucia. There is a Jazz and Arts Festival in May that brings together local and international musicians for a week of jazz, R&B and calypso.
Fall
Whether you're staying local or venturing to the Caribbean – Fall offers stunning scenery, and often fewer crowds to contend with. 
Visiting the Caribbean in the fall means hurricane season but it also means great rates and fewer crowds. With kids back in school, there's more availability at hotels, villas, and restaurants. Consider visiting Saint Vincent and the Grenadines. In October they celebrate their Independence Day which is celebrated with parades and other festivities that create a buzzing atmosphere in the streets.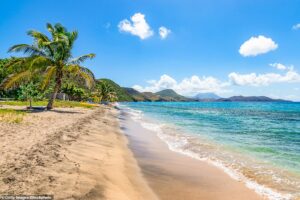 Winter
Winter is when most want to escape the cold weather and there are a ton of options throughout the Caribbean! Our top pick for winter is St. Kitts/Nevis where they have New Year's Day and Carnival Day celebrations with parades, calypso competitions and street dancing. Turks & Caicos is also a good option. The coldest month is January, with average temperatures hovering around 80 degrees, and still mild enough to lounge by the pool or at the beach. Last, the famous Bahamian festival Junkanoo runs from the end of December to the beginning of January, annually – and visiting during this time is a great way to experience the culture and history of the Bahamas. 
Whatever the season, let's plan a luxury vacation that you'll never forget! We would love to connect with you.